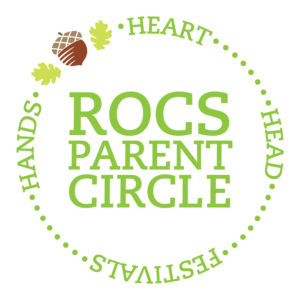 Howdy, ROCStars!
Please note that school is closed on Friday, September 30th, due to inclement weather.  Please stay safe over the weekend!
Parent Circle would like to express our deepest gratitude and warmest wishes for Ms. Dawson.  As Parent Circle Co-Chair, I had the unique opportunity to work closely with Ms. Dawson and see how much she loves our school, her staff and the students.  She led our school through significant and unprecedented challenges in education and her own life.  Please keep her and her family in your thoughts as they face another challenge together.  Parent Circle will share some ways to lift up Ms. Dawson in the coming weeks, but for now please keep supporting the staff, volunteering and taking care of the school she loves and into which she invested her whole heart.
Festivals
On Monday, October 3, our students will celebrate the Festival of Courage.  This harvest time tradition celebrates overcoming challenges.  The students will have a full school morning circle and enjoy a play about St. George and the Dragon.  Over the weekend, your child may wish to create some dragon-themed art to bring to school on Monday for the celebration.  This is not a family event, though the other festivals do include family participation.
The remaining festivals for the year will be:
10/31-11/1/22 Day of the Dead (Dia de los Muertos): a joyful way to celebrate and remember loved ones who have passed.  Each class will contribute to the school altar, dance and celebration during school hours. Families may be able to visit on the 31st after school.
11/10/22 Lantern Walk celebrates our inner light and allows space for reverence.  K-4th grades will make lanterns and walk with 5th-8th volunteering to help if they wish.
2/3/23: The Winter Faire will be a fundraiser for the school through the sale of handwork projects.  Students, staff and the community can participate.
5/1/23: May Day is a community festival that celebrates Spring and new life.  Every grade will participate with song and dance.  Students can make flower crowns and teachers may plan family picnics for their classes.
More details will be available as the festivals approach, but please save the dates!
Volunteer Opportunities:
We will be migrating our volunteer sign up sheets over to a new platform as the temporary Sign Up Genius sheets expire.  The new software will allow us to post school-wide and classroom volunteer opportunities (as submitted by room parents) to one platform that will also allow effortless tracking of volunteer hours and other features.  Please bear with us during this time of transition.
All of these volunteer opportunities require a valid background check, which can be obtained here. When requested, please use "ROCS Volunteer" in the code field. Payment for background checks is the responsibility of the potential volunteer, but financial assistance is available for those in need. These checks are valid for two years.
Stay safe and have a wonderful weekend!